Yay I started my old blog back up. The whole reason I started another blog up in Word Press is because I couldn't figure out how to link this blog up with bloglovin and I thought it would be cool to start fresh with Noah, but then when I commented on other people blog I could figure out how to link my email up to it and a bunch of other stuff... anyway... with a little bit of googling I figured it out! Yay!!! Plus I think it will be cool to keep this one going! I've had it forever! The only thing I need to figure out is how to import my other blog posts into this one. I just copied and pasted them, but I think I've figured that out too. I'm just becoming a computer whiz over here!
I wanted to link up with Ashlee and KJT for the NSV today because I have had a big one this week!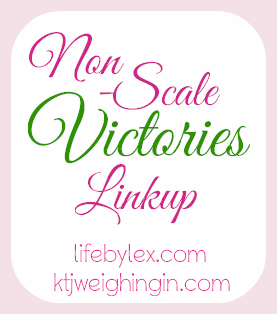 My #1 NSV is I ran...well ran walked 3.3 miles!!!!! It was slow, and ugly, but it got done! like 4 months ago I was barely walking .25 of a mile. I'd have to do it on our treadmill because I'd get too tired to do it outside and here I am running it. I can not wait to get faster. Sometimes I do get discouraged about that, but I know that will come with time. Everyone has to start somewhere and this is where I'm starting. I've been running a mile in 16 min. I did the 3.3 in 54.11. I thought about not posting that on here, but I want to be able to remember where I started from.
I burned 515 calories! My sis n law ran it quite a bit faster and burned close to 1000, so I'm excited about getting there. At the first of the week I set a goal to burn 500-700 calories 6 days a week and I've done that so far! Her burning that much just show's me it will get better and I will get faster! I'm excited. Everyday now I want to run, just so I can see if I'm any faster.
I bought a Polar Ft4 and I highly, highly recommend getting a heart rate monitor when you work out. It makes it so you work harder to burn more calories instead of sitting there watching the clock!